It was Dec 1st when I left Chicago on my way to Colorado. Almost a month since I left Charleston on my journey across the country. The drive from Chicago to Colorado wasn't so bad. I drove through the night so I didn't get to see much of Iowa or Nebraska. I got the feeling I wasn't missing much. I did get pulled over by what I can only assume was a bored cop in Omaha. He said he stopped me for improper lane change. He basically had me sit in his car with him for like 15 minutes or so while he ran my licence and let me go. No big deal. I drove a little longer and hit a rest stop for a few Z's. By the time the sun came up I was ready to get out of Nebraska. And about an hour later i was.
  I hit the Colorado border and everything just felt better. Even the "Welcome to Colorado" sign looked like it was hand carved from a hunk of tree. Soon the prairie turned to hills then to mountains. It was beautiful! Plus, to not be a criminal for the first time in my life for carrying weed was a pretty awesome feeling as well.
 As soon as I got into boulder I met with my friend Ara. Ara is a real charismatic, everyone knows and loves him kinda guy. So I got the VIP treatment the whole time I was there. The first thing we did (after getting really high;) was go to a very nice house / recording studio in Eldorado Canyon. Ara's friend Andy Mcewen is an excellent musician / Engineer. His studio was nice. All kinds of nice instruments. A Rhodes elec Piano and a Hammond B3 in the Rehearsal space alone for example. Ara, Andy & I had a nice little jam session (Ara on drums, Andie on Bass & me on Guitar) then we listened to some music that Andy had been recording. The stuff sounded good. If you're ever in Boulder and need to do some recording I recommend working with Andy Mcewen: cruciblerecording.com (mcewenandy@gmail.com)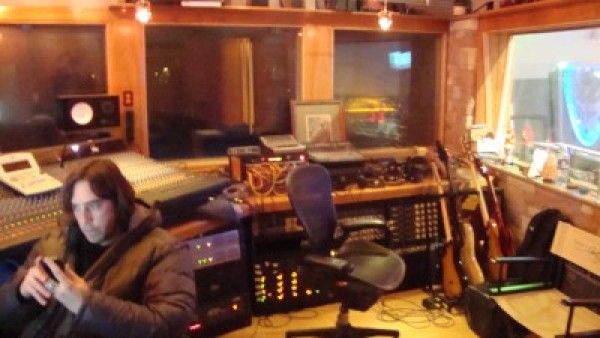 Ara also took me to see some sights. Boulder is a beautiful place. The main spot in downtown boulder is called the Pearl St. Mall. It was awesome while it was snowing. It looked like something right out of a Christmas Special.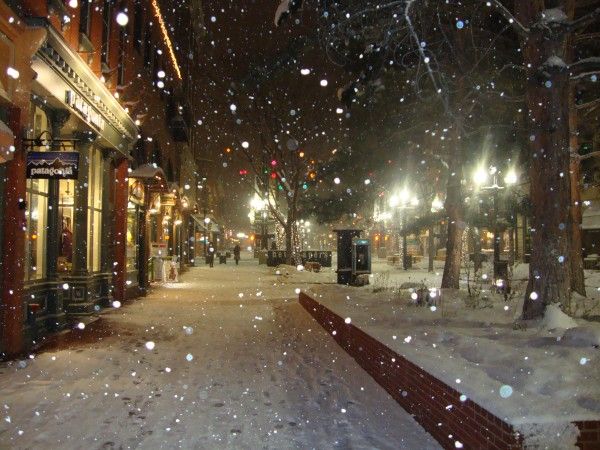 We also went to a Pinball arcade which was really cool. It had a bunch of old school pinball machines as well as newer more modern machines. Maybe I'm showing my age a little but I've never been a big fan of video games. I always liked pinball better. So I thought this place was awesome!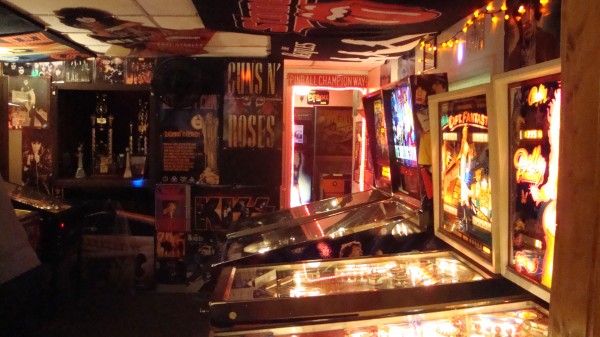 So again, being on a tight budget. I didn't get to get out as much as would've liked. But of course, I did go out some. The first time out we went to spot called "Southern Sun Brewery" which is the southern location of the "Mountain Sun Brewery"on a Monday night. This place had the best wings I've ever had in my life. There was no cover and the band was amazing.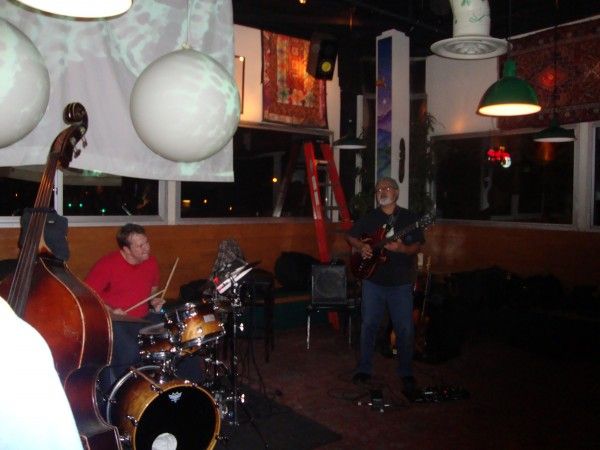 A few nights later we went to what they called a "Secret Show" hosted by KGNU Radio and held at a venue called Odd Fellows Lodge. It's a show where they sell tickets but don't tell you who is playing. An interesting concept. The band that night was called "Paper Bird". Very original. The eight-piece band consists of three female singers, accompanied by banjo, guitar, stand up bass, percussion and trombone. The three female singers fronting the band kinda reminded me of the girls singing by the river in "Oh Brother Where Art Thou". Not that the music sounded like that, but the quality of their voices was that good in a three part harmony. Paper Bird is a band that I think would be very well received in Charleston SC. So hit'm up Chucktown. That was really all the music I got to see in Boulder. 
Paper Bird at the Odd Fellows Lodge on 16th and Pearl in Boulder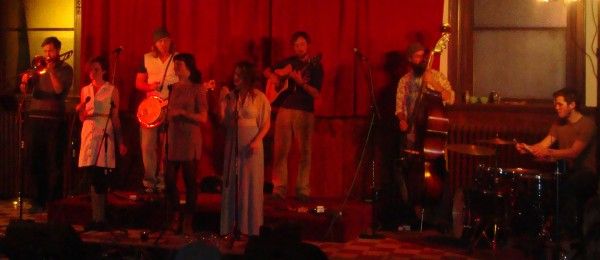 Another thing I got to see in Boulder was a behind the scenes look at the medical marijuana industry and how it worked. I was not disappointed. I actually got to go and work for a day in a grow warehouse. I was clipping finished and dried weed off the stick into containers. It was Awesome! I probably clipped 6 or 7 pounds of some truly amazing weed that day. The guy I was working for also took me to another location where there was a few grow operations and a dispensary in the same building. It was unreal! Quality and quantity like I have never seen before. And at a price you wouldn't believe. I mean not expensive at all.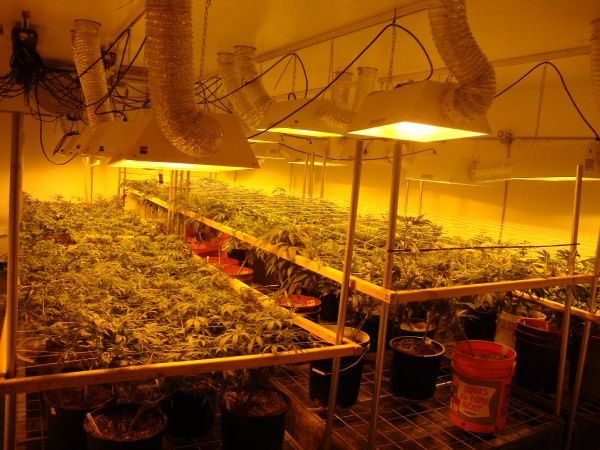 After a fun filled week in Boulder it was time to move on. The next stop, "Snow Mass" CO. A ski mountain town right next to Aspen. I would say Snow Mass is to Aspen what Folly Beach is to Charleston. A little bit smaller and more of a local feel to the place. My good friend (practically my brother) of many years Charlie Burrows is there working in a place called Base Camp Bar & Grill. He had me booked to play a couple of shows there. The shows were booked for Saturday and Sunday evenings of that weekend. I also had a live radio spot to do that Saturday morning an KSPN Radio.  I got there late Friday afternoon. I hadn't drank much on my trip up to this point but that changed as soon as I saw Charlie. We got Hammered Drunk. It was fun and great to see my friend. I see Charlie once every year or two so we tend to drink a little to much whenever we do get to hang out.
  The radio spot in the morning was rough as you can imagine, but still fun. I was hungover in a big way. I chatted with the DJ for a couple minutes, played a song and I was out.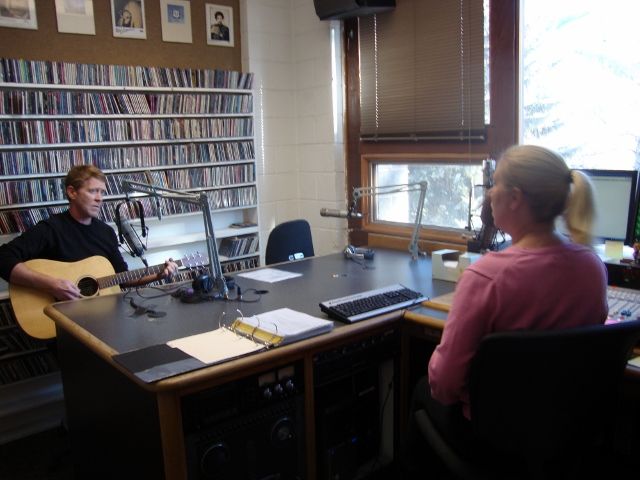 That night I played at Base Camp Bar & Grill. It was a lot of fun. Oddly enough almost everyone in the room that night was from South Carolina. Most from Charleston. Even the staff were from South Carolina. Just goes to show ya what a small world it is. 
South Carolina rep'n in Snow Mass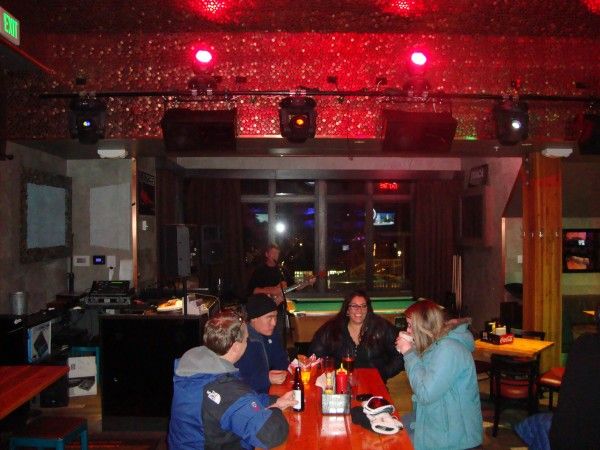 My time is Colorado was truly amazing. I got see some of Mother Natures finest work. But I was ready to get out of the cold. It was time to head to Cali. But that's another story (coming soon). Thanks for taking the time to read about my adventures. I hope you were somewhat entertained.
Thanks for keeping up with me:)
Kevin 
                                                      A FEW MORE PICS FROM COLORADO
The Van ("The House") Frozen in place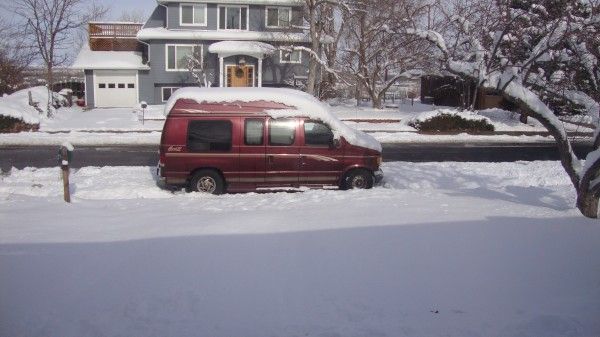 Me on Fowler Trail headed towards Rattle Snake Gulch near Boulder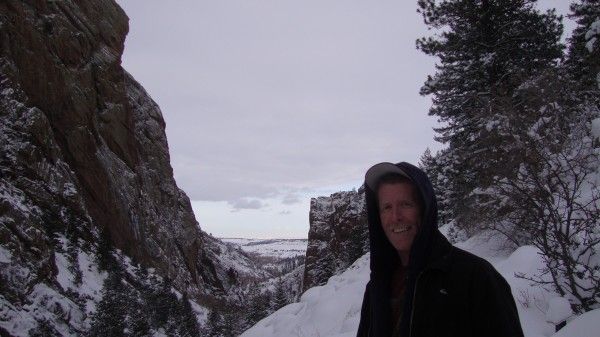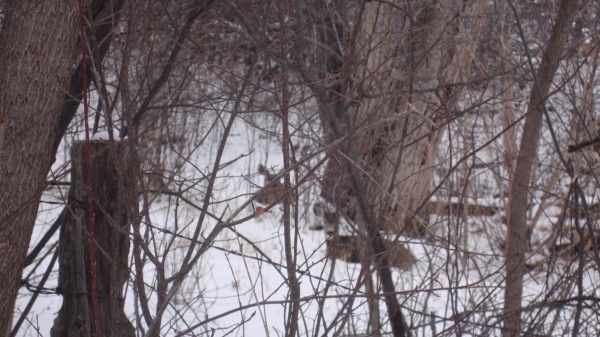 Rattle Snake Gulch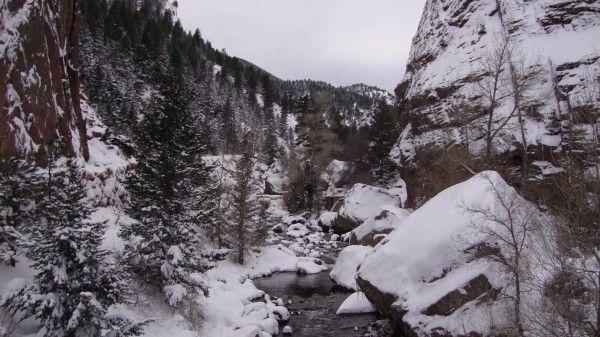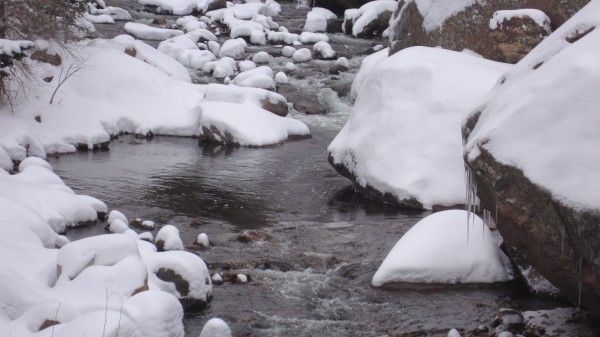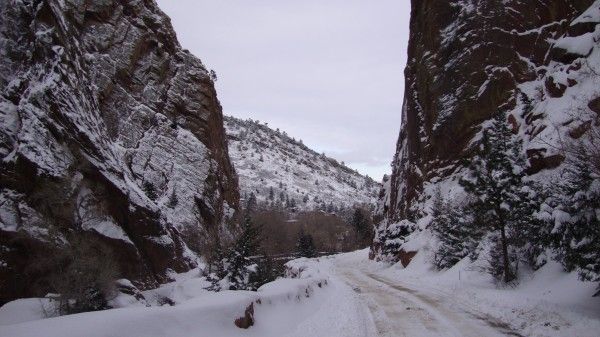 Snow Mass